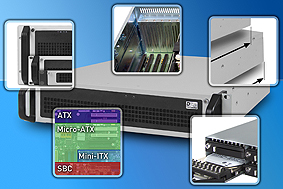 To better meet the increasing demand for flexible, high-performance 19-inch industrial computers, DSM Computer has redesigned its established Infinity® product palette. The innovative housing design of the systems combines an attractive appearance with optimum functionality. Thanks to the broad and clearly-structured offering for configurable systems with slot CPU or industrial mainboard, customers can quickly and easily select the desired configuration for their computer. The use of modular, premanufactured components leads to short development and manufacturing times. The configuration variants include the housing dimensions, the processor and graphical power as well as the number and form of the slots and drives. To satisfy the wide range of requirements, many plug-in modules are available, such as removable frames for SATA hard disks (including RAID controller), Compact Flash installation frames and slimline DVDs. The complete roadmap covers 1 HU, 2 HU and 4 HU computers with 303 to 508 mm installation depth. The robust IPCs can be installed in 19-inch cabinets (racks) or provided as stand-alone versions for deployment in harsh environments.
The modular Infinity® computers are installed in a newly-developed, gray industrial housing with anthracite-colored front. Each system has a flap to protect the drives and an air filter for dust-prone environments that is easy to replace from the front.
On request, all 19-inch systems, can be delivered with a DC power pack (12 V / 24 V / 48 V), and optionally also with a redundant power pack. Industrial-design graphical cards with long-term availability can also be supplied. Hardware RAID controllers are also available as an option.
DSM Computer develops and manufactures its modular Infinity® products exclusively in Germany. The robust 19-inch systems are designed for extreme environmental conditions and for an extended temperature range. The deployed components are characterized with their high quality that guarantees a long service life and a long-term availability.
DSM Computer GmbH
www.dsm-computer.com