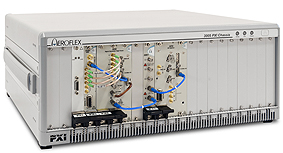 Aeroflex Limited announced a new test system based on its PXI 3000 Series modular instrumentation, which has been designed to offer measurements over a 160 MHz bandwidth at operating frequencies up to 6 GHz. The new system is particularly suited for making R&D, design verification, and production measurements on wireless LAN (WLAN) devices based on the IEEE 802.11ac standard, extending Aeroflex's market-leading 802.11ac measurement capability in PXI to cover the optional 160 MHz bandwidth.
WLAN 802.11ac promises data rates up to 10 times higher than those offered by the current 802.11nstandard. The 802.11ac standard defines three wide bandwidth variants: a mandatory 80 MHz bandwidth; a non-contiguous 80+80 MHz option; and an optional 160 MHz contiguous bandwidth. It also introduces high-density modulation, optionally up to 256QAM, and higher order Multiple-Input, Multiple-Output (MIMO) with the option of up to eight spatial streams.
In addition to wider bandwidth measurements, the new test system offers best-in-class phase noise performance and a simplified programming API. Frequency and levelling switching are also faster than has previously been available. The WLAN 802.11ac test system comprises the Aeroflex 3070 high performance vector signal analyzer and the 3050/3320 high performance vector signal generator, and is housed in the new PXI 3005 Smart PXI Chassis with universal AC power supply. When used with the WLAN 802.11ac Measurement Suite and IQCreator®, the test system provides complete waveform generation and analysis capability for high bandwidth 802.11ac WLAN devices. Both these software suites have been upgraded to handle measurements over a 160 MHz bandwidth.
Aeroflex
www.aeroflex.com