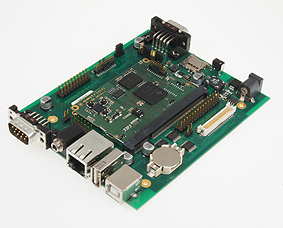 The new processor module from emtrion is based on the Cortex-A8 AM335x SoC family from Texas Instruments. The new DIMM AM335x is electrically and mechanically compatible with the already existing modules of the emtrion DIMM series and it is available at distributor Rutronik as of now.
At the same price level as an ARM9 system, emtrion's DIMM-AM335x module offers the computing power of the Cortex-A8 architecture. It is accessable in several CPU-versions (AM3352, AM3354, AM3359) and on-board memories ranging from 512MB up to 8GB Flash (SLC NAND) and either 256MB or 512MB RAM (DDR3). The module is qualified for an industrial temperature range of -40°C to +85°C.
The DIMM-AM355x has a Linux-BSP (Board Support Package), BSPs for Windows Embedded Compact 7 (WEC7) and for QNX 6.5 will follow. The BSP gets delivered together with a ready to use developer kit, which includes the DIMM-AM335x module, optionally with two different base boards, a touch display and documented development environment.
Rutronik
www.rutronik.com