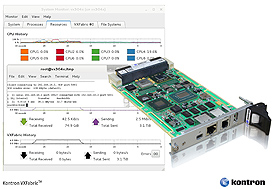 PLX Technology, Inc. and Kontron announced an industry breakthrough in the deployment of PCI Express (PCIe) technology as a backplane interconnect. Built around PLX ExpressLane PCIe 3.0 (Gen3) switches, Kontron's VX3042 and VX3044 Intel Core i7-based single-board computers (SBCs) routinely achieve 5.6 gigabytes per second (GB/s) in data throughput between any boards in a VPX rack.
The Kontron VX3042 and VX3044 Intel Core i7-based SBCs leverage PLX's PCIe Gen3 switching technology along with Kontron's exclusive VXFabric software. In addition to having two 10 Gigabit Ethernet channels already featured on the boards, VXFabric implements TCP/IP over PCI Express as a second data plane for higher-performance embedded computing. This combination of features enables efficient system convergence, as all devices and subsystems offer native PCIe, which permits immediate use of an existing infrastructure, thereby lowering latency, cost and power. Kontron VXFabric provides the software between the PLX ExpressLane switch and the bottom of a standard TCP/IP stack, which allows the boards to use their existing TCP/IP-based application without having to be modified.
PLX switches offer the ability to combine different data types in a single converged pathway. Data (compute, communication or storage) are created and consumed as PCIe on each of the slots in the rack, delivering efficiency both in hardware architectural and software usage.
Kontron VXFabric software simplifies and accelerates application development and helps to extend application lifecycles as it enables migration to emerging hardware communication standards, such as 10G and 40G Ethernet. The software streamlines the task of inter-CPU communication in VPX system architectures.
The VX3042 and VX3044 represent Kontron's third generation of 3U OpenVPX SBCs, both using Intel Core i7 processors and featuring native support for 10GB Ethernet and PCIe Gen3. The boards are specifically designed to provide the ideal combination of leading-edge performance in CPU computing power and I/O bandwidth.
Pioneers in Embedded Computing
The collaboration on the Kontron VX3042 and VX3044 Intel Core I7 SBCs draws on the expertise of two embedded-systems pioneers. PLX was first to market with PCIe Gen3 silicon and has ushered in today's powerful PCIe-based enterprise data center and consumer platforms. The company offers a market-leading 18 PCIe Gen3 Express Lane switch devices with flexible configurations ranging from three ports and 12 lanes, and up to 24 ports with 96 lanes, all of which enable PLX to champion external PCIe applications through its ExpressFabric initiative. Kontron is a recognized leader in the embedded-systems market segment and creates standards used industry-wide. The company introduced many of the market's top embedded-system solutions, including the industry's first fully functional COM Express solution.
Kontron
www.kontron.com