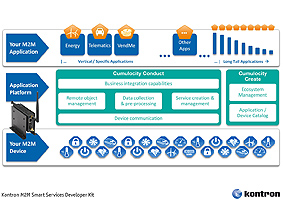 Kontron is pleased to announce that the Kontron M2M Smart Services Developer Kit now fully supports the Cumulocity M2M Application Platform. The cloud-based horizontal machine-to-machine (M2M) application platform delivers an integrated server-side database platform, network agents and sensor libraries to significantly reduce the efforts needed to bring the M2M connected sensors and devices into the cloud. Application engineers can consequently concentrate on the development of M2M services for their distributed devices. The server-side database platform is designed to collect and analyze data from thousands of Kontron M2M Smart Services Developer Kit connected sensors and devices. It controls these devices in a reliable, secure and scalable manner so that the entire service kit is perfectly tailored for a host of vertical M2M industries such as fleet management, smart energy grids, digital signage and many other appliances that are connected to the Internet-of-Things.
With the addition of the Cumulocity M2M Application Platform, the Kontron Smart Services Developer Kit significantly reduces the complexity involved in communicating with diverse device types, each having its own data model, protocol and transport mechanisms. It also provides developers with ready-to-use components for rapid development of their individual applications. These are, for instance, tools for supervision and control of meters and sensors via the cloud. They help to collect and aggregate data and provide it to enterprise back-office applications. Using the remote management functionality, devices can be reliably configured and maintained. All this functionality is available via REST web service APIs and web user interface components based on the latest AJAX technology.
To connect local sensors and devices, the Kontron Smart Services Developer Kit with scalable processor modules supports wireless connections such as 802.11a/b/g/n WLAN (Wireless Local Area Network), 802.15.4 WPAN (Wireless Personal Area Network) which is ZigBee ready and will support Bluetooth in future releases. Additional standard interfaces include GbE, USB as well as an extension option for sophisticated audio/video interfaces. For cellular connectivity to cloud applications, it provides 3G WWAN (Wireless Wide Area Network) either pre-installed or easily enabled by dropping in a pre-certified PCI Express 3G/4G module. With this comprehensive feature set, the Kontron M2M Smart Services Developer Kit gives OEMs, smart services developers and independent software vendors (ISVs) multiple options to connect their edge devices. Designed as an application ready platform, the Kontron Smart Services Developer Kit offers a rich set of software tools and middleware to reduce development cost, risk and time-to-market in an optimal, proven and production-ready COTS small factor platform.
Kontron
www.kontron.com