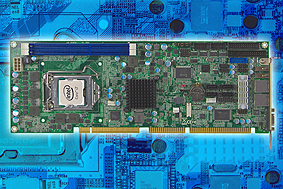 DSM Computer's new industrial slot CPU 96M4297o conforms to the long-proven PICMG 1.0 standard still used in many applications. To provide high computing and graphical performance on this standard bus (16-bit ISA / 32-bit PCI), the compact plug-in card is equipped with high-performance second generation Intel® Core™ processors.
The industrial slot CPU 96M4297o integrates the Intel® Core™ i7-2600 (3.4 GHz) processor with four computer cores in the highest-performance variant. Alternatively, the slot CPU can also be equipped with the Intel® Core™ i5-2400 (3.1 GHz, four cores) or the Intel® Core™ i3-2120 (3.3 GHz, two cores). For applications that require less performance, the 96M4297o card is equipped with a dual-core Intel® Pentium® G850 (2.9 GHz) or an Intel® Celeron® G540 (2.5 GHz). In addition to the Intel® HD/HD2000/HD3000 graphics integrated in the processor, an Intel® H61 chipset is deployed. The board can be expanded with two DDR3 1333/1066 modules to provide a maximum main memory capacity of 16 GB.
To support a wide range of applications in various markets, the PICMG 1.0 plug-in card offers a number of standard interfaces, e.g. two fast GigaBit LAN interfaces, HD audio, GPIO, serial and parallel connections. A total of twelve USB ports, two USB 3.0 and ten USB 2.0, are available. A serial ATA interface for four SATA II 300 drives is also available.
The slot CPU 96M4297o is specified for the operating temperature range of 0° to 60° C. An energy-saving mode can be set in the BIOS. A system hardware monitor monitors the temperature, the voltage and the function of the fan. Like all its products, DSM offers a two-year warranty for the 338 x 122 mm plug-in card.
Visit DSM Computer at the embedded world in Hall 1, Booth 254.
DSM Computer GmbH
www.dsm-computer.com