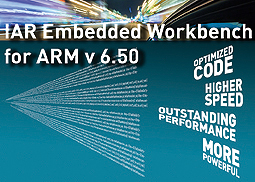 IAR Systems® announced a new version of its world-leading development tool suite, IAR Embedded Workbench® for ARM® version 6.50. The new version adds expanded integration and new functionality. In addition, enhancements to the optimization technology in the powerful IAR C/C++ Compiler result in even faster code execution.
To make it easy for developers to use device configuration tools alongside IAR Embedded Workbench, IAR Systems has implemented new functionality for adding project connections. Automated integration with Freescale's Processor Expert Software, Infineon's DAVE™ code generator, and other device configuration tools enables developers to import files or file packages generated by the tools.
IAR Embedded Workbench automatically detects changes in the generated file set.
Providing fast and compact code, the IAR C/C++ Compiler performs multiple levels of optimizations for code size and execution speed, such as loop unrolling and function inlining. The operations performed are global as well as core- and target-specific.
By further advancing its compiler technology, IAR Systems has improved the already outstanding results of industry-standard benchmarks by more than 10 percent.
IAR Systems
www.iar.com