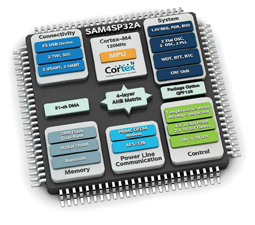 Atmel® Corporation showcased the world's first single-chip power line communications (PLC)-based solution using an ARM® Cortex™-M4 processor-based microcontroller (MCU) targeting the rapidly growing PRIME smart metering market at the Metering Billing/CRM Show in Amsterdam.
Atmel's SAM4SP32A is a new compact, highly integrated solution that combines a Cortex-M4 processor-based MCU, 2MB of dual-bank Flash, 160KB SRAM and a high-performance PLC transceiver in a single-chip SoC that lowers overall system costs.
The SAM4SP32A SoC is fully compliant with the latest PRIME (Power Line Intelligent Metering Evolution) PLC specification.
In order to support the complex protocol required by smart meters to make firmware upgrades of the application and the protocol stack independently in the field, the new SoC integrates Atmel's PLC technology with a high-performance Cortex-M4 MCU with 2MB of program memory on a dual-bank configuration. The new solution also leverages the powerful peripherals of the Cortex-M4 MCU, including serial peripheral interface (SPI), TWI and USARTS, to support the various communication interfaces required by smart metering applications.
Atmel
www.atmel.com