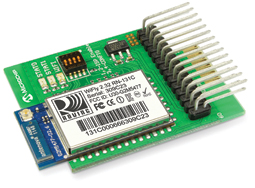 Microchip announces the integration of its Wi-Fi® modules from the recent Roving Networks acquisition into its flexible, modular Explorer development systems supporting all of Microchip's 8, 16 and 32-bit PIC® microcon­trollers. The RN-131 and RN-171 PICtail™/PICtail Plus daughter boards are the first two products developed by Microchip based on Roving Networks modules.
These modules use a simple serial interface to connect with any PIC microcontroller, and expand Microchip's wireless portfolio with the industry's lowest power consumption combined with an integrated TCP/IP stack in a certified Wi-Fi solution.
The Roving Networks RN-171 and RN-131 fully-certified modules, from Microchip, are comprehensive networking solutions that include a true 802.11 b/g radio, baseband processor, TCP/IP stack and a host of networking application features. No external processor drivers are required, enabling Wi-Fi connectivity for 4, 8, 16 and 32-bit processors. This on-board-stack approach significantly reduces customers' integration time and development effort in a small form factor, while offering ultra-low power consumption, down to 4µA in sleep, 35mA in receive and 120mA in transmit mode.
The new boards allow designers to add WiFi connectivity to the entire portfolio of PIC microcontrollers, without integrating a TCP/IP stack and whilst using standard deve­lopment tools, which speeds time to market and reduces R&D resources. The RN-131 PICtail Daughter Board (RN-131-PICtail) is priced at $44.95 each, whilst the RN-171 PICtail Daughter Board (RN-171-PICtail) is priced at $39.95 each.
Both boards are available now.
Microchip Technology
www.microchip.com/get/T074