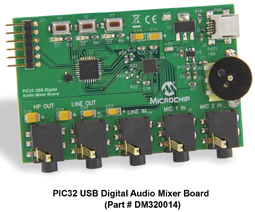 Microchip announces two new digital audio mixer boards based on low pin-count 32-bit PIC32 microcontrollers (MCUs). The DM320014 USB digital audio accessory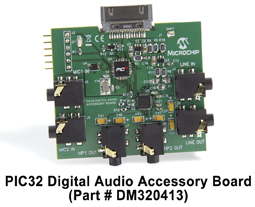 board uses standard USB 2.0 Mini-B connectivity; whilst the DM320413 digital audio mixer board offers Apple® portable device connectivity. These two development boards, each powered by a Microchip PIC32MX250F128 32-bit MCU, enable audio and voice device development for a broad range of applications. Key features include interfaces for digital audio via USB Mini-B or the Apple iOS interface; line-in and microphone-in for convenient connectivity to analogue audio sources, such as microphones or instrument pickups; and line-out and headphone-out for line-level output and headphone connectivity. Each board provides an excellent starting point for a portable music player dock design. Additionally, these features allow the mixing of digital and analogue audio, using the power of the PIC32's advanced processing capabilities.
The development boards are suitable for applications in the consumer and automotive markets, such as consumer audio docks, including those in stereo systems; noise-cancelling headsets; clock radios; or A/V entertainment system sounds bars; as well as in automotive vehicles that offer portable music player docking capabilities.
Microchip Technology
www.microchip.com/get/LCWH