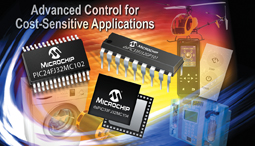 Microchip announces a new addition to the 16-bit PIC® microcontroller (MCU) and dsPIC® Digital Signal Controller (DSC) portfolios with the cost-effective dsPIC33FJ32MC104 family which offers up to 32 KB Flash, 16 MIPS of performance, and small pin outs for cost-sensitive motor control, consumer, medical and industrial applications. The dsPIC33FJ32MC104 family delivers a low-cost 16-bit solution with powerful peripherals in packages ranging from 18 to 44 pins. Using a dsPIC DSC to digitally control a motor enables several industry-leading features, including greater energy efficiency, sensorless operation and more precise control.
The dsPIC33FJ32MC104, with its low-cost and integrated DSP capabilities in addition to on-chip and advanced motor-control peripherals, enables sensorless BLDC motor control in cost-sensitive applications, such as power tools and high-end toys.
The dsPIC33FJ32M104 is an excellent solution for customers working on low-cost motor-control applications by providing a higher performance with the 16-bit dsPIC core at low cost.
Microchip Technology
www.microchip.com/get/J88W