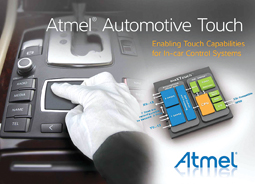 Atmel® Corporation announced new automotive – qualified maXTouch® controllers for in-car control systems. These new devices will bring today's smartphone experience into contemporary cars, even for drivers wearing gloves. Expanding the Atmel portfolio of maXTouch automotive-qualified devices, the new mXT143E and mXT224E touch controllers are designed for small automotive touchscreens and touchpads up to 7 inches in diameter such as center stack displays, navigation systems, radio human-machine interfaces (HMIs) and rear-seat entertainment systems.
By addressing smaller screen and touch-pad sizes, the mXT143E and mXT224E controllers complement the company's growing family of automotive-qualified touchscreen controllers that support screens/pads from 2 to 12 inches in diameter.
With these new automotive-qualified maXTouch devices, Atmel strengthens its position as a market-leading touch innovator and supplier. The maXTouch family is known for its superior performance and rich feature set, including unlimited touches, fast response time, touch precision, robust operation and low power consumption.
Atmel
www.atmel.com