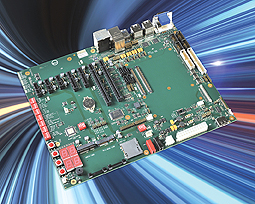 The MSC Vertriebs announced it has added two new, performance-enhanced, cost-optimized modules to its high-performance MSC C6B-7S COM Express™ module product line-up. The compact embedded modules feature an integrated Dual-Core Intel® Celeron™ 847E processor with 1.1 GHz or a Single-Core Intel® Celeron™ 827E processor (1.4 GHz). Both modules comply with the type 6 pin-out of the current COM Express™ standard and support two independent displays.
The MSC Vertriebs GmbH deve­loped the MSC C6-MB-EVA evaluation board to enable the set-up and evaluation of prototype systems that are based on the high-performance COM Express™ MSC C6B-7S modules with type 6 pin-out. The platform allows modules with a type 6 pin-out to be thoroughly tested and evaluated. Moreover, the evaluation board can also be used for simultaneous hardware and software development, dramatically accelerating the integration process.
The MSC C6-MB-EVA evaluation board in ATX format (305mm × 244mm) not only provides a slot for any type of COM Express™ module, whether basic or compact format, but all of the interfaces possible with a type 6 pin-out as well. For example, numerous interfaces such as DisplayPort, DVI, HDMI and eDP (embedded DisplayPort) are also provided for connecting displays and monitors. Some interfaces are available externally through connectors on the I/O shield, while others are available as internal interfaces.
MSC Vertriebs
www.msc-ge.com