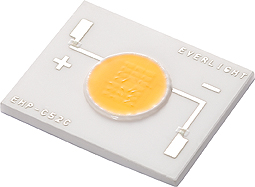 Adding to the performance and popularity of Everlight's 6.4W and 8W Chip-on-Board (COB) LED series, one of the highest CRI and highest efficiency COBs on the market, Everlight Electronics Co., Ltd. announces the brand new and smaller C52 COB LED series which is perfectly suitable for directional and decorative applications such as MR lamps and P35 bulbs at LIGHTFAIR International 2012 in Las Vegas/USA.
For these types of applications, an LED light source must exhibit compact size, high efficiency, sufficient lumen output, high CRI, high color uniformity, and proper light distribution to maintain a comfortable and uniform lighting environment – all at consumer acceptable prices. With its new C52 COB Series, Everlight Electronics has created the other ideal LED to address major challenges posed when designing a retrofit like MR, GU or candelabra type: minimum efficiency requirements, thermal management in limited space, and complexity of design. Everlight's COB series is a 3.7W multi chip, ceramic substrate based LED that boasts a low thermal resistance (Rth <1.8°C/W) and superior efficacy of 100lm/W at 3000K CCT and high CRI (>80Ra). It will be available not only in ANSI 3000K CCT but in all Energy Star / ANSI color temperature ranges. Mechanically, the C52 COB series can be mounted directly on heat sink eliminating the SMT process. This provides more direct thermal dissipation, ease of assembly, and lowering of the system cost in lighting applications.
EVERLIGHT's C52 Series is using the standard DC chips configured in series and parallel to provide the most convenient driving conditions for existing driver designs.
EVERLIGHT Electronics
www.everlight.com