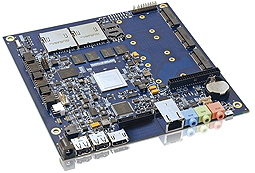 Kontron releases its first Mini-ITX embedded motherboard with ARM processortechnology that has an NVIDIA® Tegra 3 processor on board. The product is available at the distributor Rutronik as of now.
As part of Kontron's entry into ARM processor technology, Kontron has unveiled its first embedded ARM based motherboard in the Mini-ITX form factor (170mm x 170mm). The Kontron KTT30/mITX is equipped with NVIDIA's® Tegra 3 super processor and combines outstanding media performance with particularly low power consumption. With its integrated low-power GeForce® GPU, the ARM Cortex-A9 900MHz Quad-Core processor board offers impressive 3D graphic performance and delivers a total energy consumption of just under 7W. Therefore, the board is ideal for a wide spectrum of graphics- and video-oriented embedded applications like thin clients, Panel PCs and Mini-Box PCs. It is also predestined for markets such as medical, industrial automation, energy and public safety.
An additional core with up to 500MHz clock speed reduces power consumption to less than 1W in phases, when only media playback or background services are running. With its integrated 12-core NVIDIA® GeForce® GPU for low-power applications, life-like 3D graphics with dynamic lighting are possible at screen resolutions of up to 2048 x 1536 pixels. It also offers HDMI 1.4a and 24 bit LVDS video interfaces and real time video compression. Peripheral devices can be connected via three USB 2.0 ports and two RS232 ports. Operating system and application data can be hosted on the bootable eMMC. Two PCIe slots, one of which can also be used as an mSATA port, are available for application-specific extensions. Additionally there are analog audio-I/Os and a RJ45 Gigabit Ethernet port.
Rutronik
www.rutronik.com