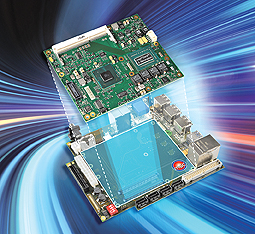 MSC Vertriebs GmbH presents its innovative starter kit for COM Express™ Type 6 modules which represents a complete, ready-to-run environment for this new range of Computer-on-Module (COM) with the latest interface standard. The kit contains a COM Express Type 6 baseboard, a heat sink with fan and two 4-Gbyte DDR3 memory modules. Users of the kit are free to choose any suitable COM Express Type 6 computer module from MSC's growing portfolio.
The PICMG Consortium has added the Type 6 extension to the COM Express specification V2.0 providing major improvements over the previous Type 2 definition. It features additional configurable Digital Display Interfaces (DDI) for SDVO, DisplayPort and HDMI/DVI, USB 3.0 and a total of 23 PCI Express Gen 2 lanes. However, for users of the earlier COM Express Type 2 modules, this means to use a totally new baseboard implementing the widely different COM Express connector pin-out. Even though MSC will continue to provide and even extend its range of Type 2 processor modules, the added features of Type 6 will create a strong demand for Type 6 modules and the related infrastructure, i.e. baseboards and complete starter kits.
Therefore MSC has put together the COM Express Type 6 starter kit now presented and built around a Type 6 baseboard providing the perfect environment for computer modules of the new standard. This board features the COM Express Type 6 module socket and a large number of peripheral connectors allowing access to the most important computer interfaces: PCI Express x 4 slot, LPC bus on 10-pin header, 4x SATA connectors, 4x USB 3.0 interfaces (compliant with USB 2.0), VGA and DVI connectors, 3x DisplayPort and 3x HDMI connectors as well as a 40-pin eDP (Embedded DisplayPort) connector. The Ethernet connector supports 10/100/1000 Mb/s signals, and there are 6x audio jacks and SPDIF connectors. In addition, a feature connector carries SMBus, I2C bus, power and reset button, beeper, HD LED and other system signals, and a 4-pin fan connector is directly usable to drive and control the fan on the heatsink provided with the starter kit. The board will be powered from a 20+4 pin ATX connector to be connected with a standard PC-type of power supply.
This carrier board may also be used as a Type 6 to Type 2 adapter card. It features two COM Express Type 2 module connectors soldered to the reverse side which allow the board to be plugged into the module socket of the popular COM Express Type 2 baseboard MSC CX-MB-EVA2 which is almost the "prototype" of a laboratory evaluation baseboard for COM Express modules. Owners of this board may use the baseboard of the new COM Express Type 6 starter kit to operate Type 6 modules in their Type 2 evaluation baseboard. In this constellation the new interfaces can be found on the peripheral connectors of the "adapter" card.
The COM Express Type 6 starter kit comes with an active heatsink with fan and two DDR3 SO-DIMM memory modules suitable for any Type 6 "Basic" computer module available from MSC. This important COM family already comprises products with the third generation Core™ processors spanning a wide performance range from quad-core Intel® Core i7 devices to dual-core Core i5 processors and to economic dual-core and single-core Celeron™ devices. In order to allow customers to select their Type 6 module of choice, the COM Express module is not contained in the starter kit and will be ordered separately.
The new COM Express Type 6 Starter Kit can be ordered immediately and will be shipped within a short delivery time.
MSC Vertriebs GmbH
www.msc-ge.com