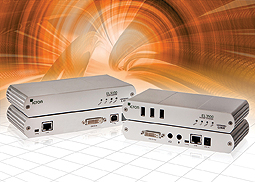 The EL (ExtremelinkTM) family of KVM extenders delivers sharp, bright, high resolution video and high quality audio over incredible distances.
Amplicon have expanded their KVM portfolio to include the latest KVM extenders from Icron Technologies. The EL3500, EL4500 and EL5100 are KVM extender systems which allow you to place your computer away from the work area using ExtremeLinkTM technology – Icron's proprietary KVM extension protocol – to transmit HD video, audio and USB 2.0 over inexpensive CatX (Category 5 or better) cable.
The EL3500 is a cost effective KVM capable of extending DVI-D (Digital Video Interface-Digital), USB 2.0 and audio over a distance of up to 500m. Video quality will not degrade with distance; in fact the EL3500 will transmit a resolution of 1680 x 1050 at the full 500m. The EL3500 is an ideal solution for those who need reliable and responsive KVM extension beyond the limits of other KVM products on the market.
The EL4500 is a versatile KVM which can extend DVI-D, USB 2.0 and audio up to 100m over CatX cable, or can leverage an existing Local Area Network infrastructure by extending over layer 2 switched networks. The benefit of LAN transmission is the distance is theoretically infinite – the KVM will extend to the limits of your network and communication is completely transparent.
The EL5100 is a high resolution KVM extender, capable of resolutions of 1920 x 1200 (1080p), it can extend video, audio and USB 2.0 up to 100m with no degradation of video quality. The EL5100 delivers a superior video quality level to distances that cannot be matched by its peers.
Amplicon
www.amplicon.com