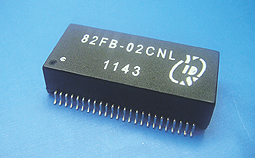 Designed as cable interfaces with electrical isolation for all 1:1 turns ratio Ethernet transceivers the 82FB series magnetic modules from YDS are now available at MSC. Optimised for 1000 Base-T these modules also offer outstanding performance at 10/100 MHz. They support four pairs of category 5 UTP cables.
The 82FB series magnetic modules are specified with an isolation of 1500 Vrms minimum and fully meet or exceed the specifications of the IEEE802.ab standard 1000 Base-T. The most asked for magnetic configurations for 1:1 turns ratio transceivers are standard products. Other configurations can be made to customer specifications. Common features are low insertion loss, high return loss, excellent common mode suppression and low cross talk from -40 °C to +85 °C.
The 82FB series magnetic modules measure just 27.81 x 12.19 x 7.24 mm. The optimised bottom potted package ensures a remarkably reduced stress of the internal connections during temperature variations resulting in a considerably increased reliability. The 82FB magnetic modules are recognized by UL 60950-1.
MSC Vertriebs GmbH
www.msc-ge.com