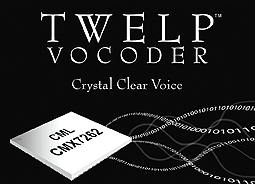 CML Microcircuits, a leader in the design, development and supply of low-power analogue, digital and mixed-signal telecommunication semiconductors, has expanded its DuraTALK digital voice processor range with the release of a new professional radio low bit-rate 2.4kbps vocoder.
The CMX7262 is a high-performance low bit-rate vocoder for professional two-way radio, providing market-leading crystal clear voice and excellent performance in real-life radio operation. This is achieved through the use of the latest state-of-the-art voice coding technology called "Tri-Wave Excited Linear Prediction" (TWELP), developed by the digital voice coding experts at DSP Innovations.
The CMX7262 TWELP vocoder provides a highly-integrated solution with optimised signal processing ensuring lowest power consumption. Voice is handled in 20ms frames ensuring compatibility with recognised digital PMR standards as well as CML Microcircuits' range of digital PMR baseband processors.
Supporting the voice coding function is a robust forward error correction (FEC) scheme, an important feature to mitigate errors inherent when transmitting over narrowband radio channels in challenging conditions. Background noise reduction has also been implemented to further enhance voice clarity. Unlike other purely digital-based solutions, the CMX7262 integrates a voiceband audio codec (ADC/DAC functionality), input/output amplifier and loudspeaker driver with digital gain control to give a complete solution of analogue voice in to vocoded data out and vocoded data in to analogue voice out.
The device operates from a 3.0V to 3.6V supply and is built on CML's FirmASIC® technology providing maximum flexibility and optimal performance, in a single small 64-pin VQFN and LQFP packages.
CML Microcircuits
www.cmlmicro.com