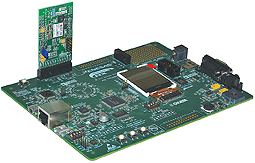 The RS9110-N-11-22-(xx) modu­le from Redpine's Connect-io-n™ family of products is a complete IEEE 802.11bgn based wireless device server that directly provides a wireless interface to any equipment with a serial or SPI interface for data transfer. It is available with integrated antenna or with uFL connector for external antenna at distributor Rutronik.
The RS9110-N-11-22 integrates a MAC, Baseband processor, RF transceiver with power amplifier, a frequency reference, and an antenna in hardware. Included are also all WLAN protocol and configuration functionality and networking stack in embedded firmware to make a fully self-contained 802.11n WLAN solution for a variety of applications. Therefore, no WLAN or networking functionality is required on the host MCU. The module is compliant to 802.11b/g and single stream 802.11n. Thanks to its self-contained serial-to-wireless functionality it does not require any host processor bandwidth. It allows configuration through AT commands and SPI frames.
The RS9110-N-11-22 is ideal for seamless Wi-Fi connectivity for any equipment with a serial or SPI interface, industrial M2M communications, point of sale terminals, metering, security cameras & surveillance equipment, warehousing, digital picture frames, logistics and freight management as well as several medical applications including patient monitoring, remote diagnostics etc.
Rutronik
www.rutronik.com