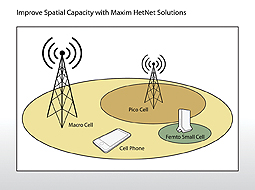 Maxim Integrated Products, Inc. announces several essential HetNet solutions needed for next-generation base-station equipment. The solutions include single-chip multiband radio transceivers, broadband gain blocks, direct RF synthesis DACs, and intelligent, digital, point-of-load controllers.
The cellular radio access network (RAN) is evolving to a heterogeneous network that demands a set of diverse analog and mixed-signal base-station solutions required for the main radio signal paths, baseband processing support, and power-conversion nodes. Maxim has anticipated the HetNet evolution and offers new solutions that deliver dense analog integration with high dynamic performance, low power, and high reliability.
HetNet is the coordinated deployment of critical 3G/4G wireless infrastructure elements comprising macro cell and small cell base stations, residential femto cells, and mobile backhaul. The network elements work in concert to deliver the high data throughput, high mobility, and the exceptional quality of experience that mobile broadband subscribers expect from the 3G/4G network.
With exploding mobile media and data consumption patterns, subscribers will experience ubiquitous, reliable, and seamless connectivity from the HetNet architecture.
Maxim Integrated Products
www.maxim-ic.com