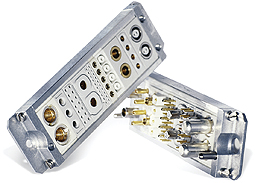 The ODU-MAC modular connector system, manufactured by ODU, is equipped with a range of combination possibilities and with particular modules: customizable frames, plastic insulation bodies and removable crimp contacts for power, signal, coax, air couplings and fiber optic connections. The connectors are equipped with spring wire contacts, which allow up to 100 000 mating cycles. ODU-MAC modular connectors are available in aluminum frame or DIN housing.
Main characteristics:
• Extremely high mating cycles (>100.000).
• Vibration protection and stability.
• Easy operation.
• High connector density, low space requirements.
• Alu-frame and Din-housing available.
ODU-MAC in aluminum frame

• The docking solution: Possible lengths up to 182.5 mm
ODU-MAC in DIN housing with spindle locking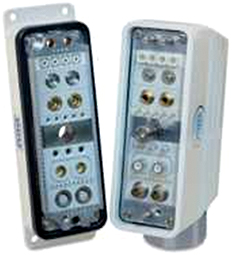 • For simple operation Size II to IV
ODU-MAC in DIN housing with lever locking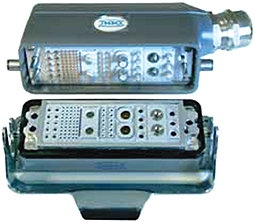 • For simple operation Size I to IV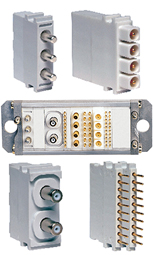 Modules – individually put together
Signal, power, HF, fiber optic, bus and pneumatic modules are some of the modules that can be built into ODU-MAC.
For further details please visit the company website – online catalog.

Together we can find the perfect solution!
Contact:
sales@odu-rom.ro
www.odu-rom.ro
ODU ROM Manufacturing – Sibiu, Romania
Tel: 0748144488; Fax: 0269 221006
For general information visit: www.odu.de