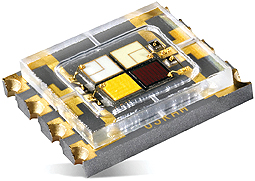 Mouser Electronics, Inc., regarded as a top design engineering resource and global distributor for semiconductors and electronic components, today announced it is stocking new LEDs from OSRAM Opto Semiconductors.
OSRAM Ostar Stage LEDs offer an extremely slim, 1.23mm high profile, made possible by a flat glass cover with an anti-reflective coating. The new flatter profile allows these LEDs to provide the basis for compact spotlights with a very narrow beam and high luminance. The glass cover has been optimized specifically for injecting light into lens systems, enabling a narrow light beam of ±9º to be produced. This beam is smaller by factor 2 than that of spotlights based on plastic-encapsulated LEDs and also increases the luminance of the spotlight by factor 2. The Ostar Stage LEDs are based on the OSRAM Ostar SMT platform and contain four different chips in red, green, blue, and white, allowing them to produce virtually any color.
All four chips are manufactured using efficient thin-film technology so that most of the light produced internally is emitted at the top and more light can be focused in the customer optics system.
Mouser Electronics
http://www.mouser.com