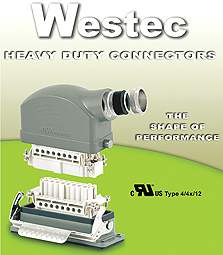 Westec represents the Italian challenge in the market of Multipole Connectors for Industrial applications.
Westec products are certified from latest European and American laboratories (EN 61984, VDE 0627, UL 1977, CSA: C22.2 No. 182.3, NEMA 250 1991 UL50 Type 4,4x,12, DESINA, EUROMAP). We offer a wide range of standard products with a flexible design approach that allows us to manufacture special OEM solution on customers design.
These are a few of the advantages you get with our connectors:
• Westec is the only manufacturarer of connectors with 16 A for command and 80 A for force on the same connector;
• Westec gaskets have the right shape and stronger NBR rubber with a better aging factor than competitors;
• Higher percentage of silver in the alloy of the connectors than other manufacturers.
O'BOYLE s.r.l.
Tel.: +4 (0) 256-201346
office@oboyle.ro
www.oboyle.ro