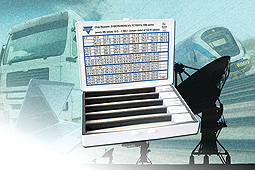 Vishay Intertechnology, Inc. introduced four new engineering design kits for its AEC-Q200-qualified D/CRCW e3 thick film chip resistors. Designed to help engineers select the perfect resistor for their applications, the kits offer the commercial-off-the-shelf devices in 0402, 0603, 0805, and 1206 case sizes and a wide variety of resistance values, conveniently taped in strips and individually labeled and packaged. The four design kits released today feature E96 series resistance values from 10Ω to 1MΩ (every fourth value) — in addition to a 0Ω jumper — for 122 different values each. The resistors provide tolerance of ± 1%, TCR of ± 100ppm/K, power dissipation (P70) from 0.063W to 0.25W, and limiting element voltage from 50V to 200V.
The D/CRCW e3 thick film chip resistors are ideal for automotive, industrial equipment, telecom infrastructure, consumer, and computer applications.
The devices are compliant to RoHS Directive 2011/65/EU and halogen-free according to the IEC 61249-2-21 definition.
Vishay Intertechnology
www.vishay.com