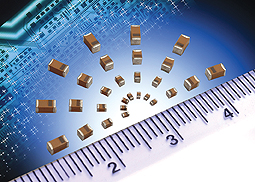 AVX Corporation has more than doubled the volumetric efficiency of its tantalum technology, enabling latest versions of its TACmicrochip® capacitor to deliver 15µF/4V and 10µF/6V from a 0402 chip. The CV performance of these TLC series devices is even greater than ceramic MLCC devices using the X5R dielectric. The design of the TACmicrochip® capacitor series eliminates the need for molded plastic from the packaging – required in traditional designs – allowing much greater capacitance to be squeezed into a given package. This has increased the volumetric efficiency from less than 15% to approaching 50% – making them applicable for a much wider range of uses.
High CV 15µF/4V, 10µF/6V TLC parts suit miniature application such as hearing aids, ultra-thin smart phones and tablet PCs.
TBC capacitors are available to three specifications: the conservative military standard CWR15, ranging from 0.47µF to 68µF; COTS-Plus devices which can be supplied tested to customized parameters; and SRC9000 devices – specially dedicated to satellites and space systems – which are subjected to special post-assembly tests to assure the highest quality levels.
AVX
www.avx.com