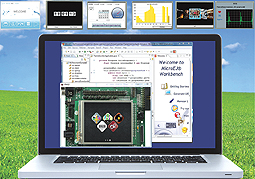 Computerized devices such as white goods, office equipment and industrial controls could soon present users with rich graphical features such as animations and widgets, as seen in smartphones, thanks to new technology fromSTMicroelectronics.
Gadgets such as smartphones and media players have become increasingly attractive, dynamic and easier to use than other electronic products in the kitchen or workplace. One reason for this is advanced Object-Oriented Programming (OOP) software-design environments, such as Java; the mobile industry is using Java, while microcontroller systems mainly use traditional structured programming languages such as C. In particular, Java simplifies building graphical user interfaces, which by nature are object-oriented using features such as hierarchies of widgets.
The MicroEJ Software Development Kit can be regarded as the world's first professional-quality tool-set enabling embedded system designers to leverage Java Object-Oriented Programming (OOP). MicroEJ provides extended features to create, simulate, test and deploy Java applications in embedded systems. Support for Graphical User Interface (GUI) development includes a widget library, design tools including storyboarding, and tools for customizing fonts.
STMicroelectronics
www.st.com