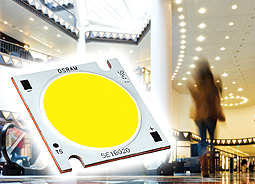 The new Soleriq series, the first chip-on-board LED from OSRAM Opto Semiconductors, achieves a luminous flux of 1500 lm to 4500 lm even at high application temperatures. This makes them ideal for downlights with high performance requirements.
The Soleriq E is now available at Rutronik in two versions.
Downlights provide high-quality background lighting, e.g. in shopping malls, offices, industrial buildings and high-end residential premises. With a luminous flux of 1500 lm to 4500 lm, only one LED of the new Soleriq series is needed to give such a luminaire enough light. This makes designing luminaires much easier because only one component has to be integrated instead of lots of LEDs. The individual chips of a Soleriq E are all under the conversion layer (chip-on-board), giving the impression of a homogeneous light emitting surface. This ensures a uniform color and light appearance in the luminaire and even coupling into external light-guiding optics is very simple. The light generated can be used with much lower optical losses, which in turn makes the LED lamps and luminaires more efficient. The Soleriq E is available in two versions, covering the entire color spectrum from 2700 to 6500K.
Rutronik
www.rutronik.com