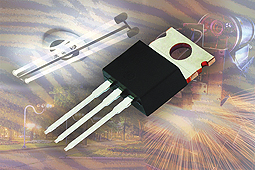 Vishay Intertechnology, Inc. released the first devices in its next-generation D Series of high-voltage power MOSFETs. The new 400 V, 500 V, and 600 V n-channel devices combine low specific on-resistance with ultra-low gate charge and currents from 3 A to 36 A in a wide range of packages.
Based on a new high-voltage stripe technology, the D Series MOSFETs released today enable new levels of efficiency and power density. The devices' stripe design — with a smaller die size and terminations — lowers the total gate charge by 50 % compared with previous-generation solutions while increasing switching speed and reducing on-resistance and input capacitance.
The 400 V, 500 V, and 600 V devices feature on-resistance down to 0.17 Ω, 0.13 Ω, and 0.34 Ω, respectively.
Vishay Intertechnology
www.vishay.com