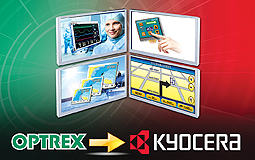 The Kyocera Group includes over 200 companies worldwide that manufacture a wide range of products including industrial ceramic materials, semiconductor components, automotive components, communications equipment and liquid crystal displays (LCDs).
With the acquisition of Optrex and formation of Kyocera Display Corporation, Kyocera will expand its LCD product offerings and manufacturing capabilities for automotive and industrial applications.
Kyocera offers a wide range of active matrix TFT LCD panels in sizes from 3.5 to 12.1 inches diagonal and resolutions from QVGA to SVGA. Optrex, founded in 1976, has been focused on small and medium size LCDs in the automotive and industrial market sectors, offering a range of active matrix TFT and monochrome graphic and character LCDs. Kyocera's Gen 3 TFT LCD fabrication facility produces state-of-the-art polysilicon and amorphous silicon panels.
Kyocera Display Corporation will complement their high-volume front-end array production capability with Optrex's back-end modularization capabilities.
Kyocera Corporation
http://global.kyocera.com