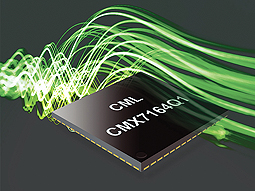 CML Microcircuits has released a Function Image Update for the high-performance CMX7164 Multi Mode Modem.
Function Image 7164FI-1.x adds the use of GMSK/GFSK modulation and is the latest in a roadmap of function enhancements available through CML's FirmASIC component technology. These updates are designed to add to the device's functions and features, increasing its flexibility and facilitating in-the-field upgrades.
The incorporation of FirmASIC technology allows the product's function and feature set to be easily configured via special Function Image™ data files. These are uploaded during device initialisation, either automatically from an external serial memory or via a host microcontroller over the built-in C-BUS serial interface.
The 7164FI-1.x supports GMSK/GFSK modulation with BT=0.5, 0.3, 0.27 or 0.25 and up to 20kbps, zero IF (I/Q) Rx and two-point modulation or I/Q modulation Tx. Flexible bit rates support a wide range of applications requiring a selectable flexible bit rate and robustness.
The GMSK/GFSK data is over-air compatible with the FX/MX909B and the CMX7143FI-1.x.
CML Microcircuits
www.cmlmicro.com