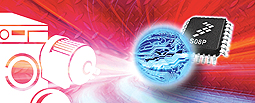 In the strong momentum after rolling out ARM® Cortext-M4 based high-end 32-bit MCU, Freescale announced recently its next generation S08P 8-bit MCU series, with high robustness, cost-effectiveness, ease-of-use, compatibility and scalability, to address the broad market needs in home appliance, power conversion, motor control and many other industrial and consumer applications.
This new series inherits the industrial proven, high-efficient and reliable S08 core architecture with optimization to further reduce power consumption. It adopts mature automotive grade advanced process technology which has already been long-time proven with mass silicon shipment for automotive product designs. It takes enhanced chip-level design approach to meet the industrial-leading performance on EMC & ESD immunity. It helps to achieve low system-level EMI with on-chip internal clock source and frequency multiplier, plus programmable drive-strength and slew-rate control.
It fully complies with IEC-60730 safety requirement, including independent watch-dog clock source, windowed watch-dog clearing, chip reset signal output, as well as having hardware CRC engine.
Apart from adopting new process to lower the silicon manufacturing cost, S08P series also integrates abundant peripherals to help customers minimize the system BOM cost.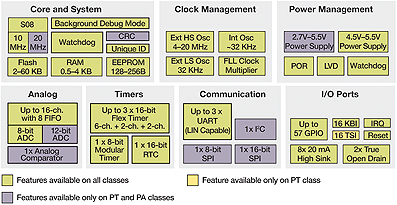 It has high accuracy internal clock source (less than 1.5% deviation across entire temperature and voltage range) which can help to save both cost and PCB area by eliminating external crystal clock source for most of the designs; 12-bit high resolution ADC can ensure accurate signal measurement with low-cost simplified external signal conditioning circuitry; TSI (Touch Sensing Interface) enables easy implementation for human-machine touch control without the need of any extra components; On-chip EEPROM can save external data storage chip when application needs frequent small amount of data update and storage; other features such as 6-channel PWM in 3-phase complementary-pair output with dead-time insertion simplifies motor control or power conversion application, communication modules including SPI, I2C & SCI provide flexible inner-board or inter-board data connection, multiple timer modules allow adequate timing control for various application tasks, RTC (Real Time Counter) module provides a periodic wake-up scheme after MCU gets into low-power stop mode. Besides, it can also implement real-time calendaring function with simple firmware coding.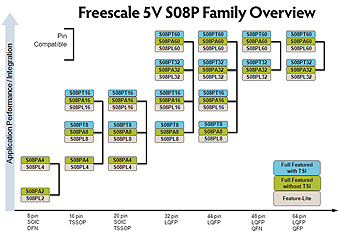 Taking the advantage of consistent S08 core architecture, the whole S08P series can reuse all the existing S08 hardware and software development tool chain broadly available, including vast 3rd party ecosystem, thus greatly reduces the investment for project development. All Freescale existing customers can easily port their legacy and proven S08 code library onto this new platform.
Freescale's CodeWarrior IDE as the standard development platform fully supports new S08P code development. It's based on open-source Eclipse environment, bundled with source code editor, C-complier, source-code level debugger interface, as well as ProcessorExpert, a professional automatic code generating tool helps to initialize the code project through a few clicks.
More importantly, it offers full-featured free C-Complier supporting entire S08P series code development. BDM hardware debugger works seamlessly with CodeWarrior IDE which enables simple, low cost yet high efficiency interactive code debug and development. In addition, there's open-source OSBDM tool available with intrinsic support from CodeWarrior. It can be DIY'ed with all the design material downloadable from the web.
S08P series consists of three classes: full-featured touch-sensing enabled S08PT class, full-featured without touch-sensing S08PA class, and feature-lite cost competitive S08PL class. All three classes are pin-to-pin compatible on the same package option, despite some differences on peripheral feature-sets and performance. In this series from the smallest 2KB Flash in 8-pin package to the biggest 60K Flash in 64-pin package, all of them are compatible in core, peripheral functions and pinout on particular package. Customers can pick a most suitable part to start with their product design and keep the freedom of switching to other class parts without the need of any hardware modification.
S08P has been sampled from Q4 2011 for those early adopters. Mass production begins in Q2 2012. Suggested resale price in 10,000 volume starts from $0.35 for low-end 2K/8-pin S08PL2, up to $1.26 for 60K/64-pin S08PT60.
For getting more product info on S08P series, please visit product specific page on Freescale web site: www.freescale.com/S08P