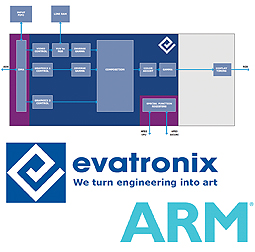 Silicon intellectual property (IP) provider Evatronix SA has announced the release of the first member of its PANTA high performance display controller core family. Developed using ARM technology the PANTA DP20 is targeted specifically at high-end mobile/portable products, like smartphones and tablet PCs, with ultra-low power consumption that does not sacrifice processing performance.
The PANTA DP20 off-loads the general purpose central processing units (CPUs) from power-consuming video processing tasks, like composition of up to 3 graphics or video layers, YUV to RGB conversion, alpha-blending and gamma correction. It supports a variety of display standards and features programmable resolutions of up to 8191×8191 pixels. The processor's output pixel interface, with HSYNC, VSYNC and blanking signals, is compatible with HDMI (also 3D) and MIPI DPI interfaces. A plethora of RGB and YUV pixel formats are supported, as well as progressive/interlaced video input.
The processor features support the advanced AMBA® 4 AXI4 system bus protocol, which increases performance and lowers data transfer latency within the application.
EVATRONIX
www.evatronix.com/ip