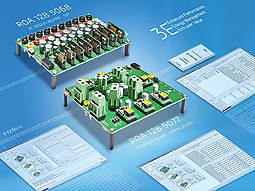 Ericsson has announced an extension to its 3E Gold Design Kit with the launch of two new development board kits. Launched in June 2011, the 3E Gold Edition Design Kit has been widely used by board and system architects and enables the easy implementation of Ericsson's Advanced Bus Converters – the BMR453 and BMR454 – and the company's 3E PMBus-compliant Point-of-Load DC-DC regulators – the BMR462, BMR463 and BMR464.
Developed for system-level power design, the new ROA1285068 and ROA1285077 3E design kits enable systems architects to develop not only the exact power architecture required for their final application, but also to configure and monitor every single component to optimize performance and reduce energy consumption. The two new board kits can also be interconnected with other 3E kits such as the ROA1283835 and the ROA1283836 and can be used as stand-alone kits for smaller systems or educational purposes.
For easy control, monitoring and programming of the target 3E Point-of-Load DC-DC converters, the two boards are PMBus compliant and can be connected via Ericsson's KEP91017 USB-to-PMBus adaptor to a personal computer running the 3E Gold Edition software package.
Ericsson Power Modules
www.ericsson.com/powermodules