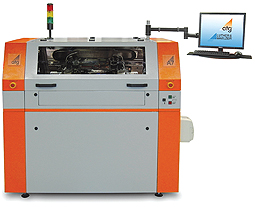 Everett Charles Technologies (ECT) introduces the new A7Cf Flying Probe Test System from atg-LM. The double-sided test system features four probes on top and four additional probes on the bottom.
The test platform first was unveiled at the CPCA show in Shanghai with positive feedback. "The A7 is atg-LM's latest innovation in high-performance, high accuracy flying probe," said Klaus Koziol, atg LM's Director of Sales North America.
The high-speed A7 performs up to140 measurements per second or up to 8400 per minute, depending on the product under test and test method. The platform features a large test area of 20×24″, and can inspect pad sizes down to 2 mil (1.3 mil with micro needle) and pitches down to 4 mil (3 mil with micro needle).
The universal shuttle system offers a clamp and tension mode for testing flexible and rigid boards. In addition to providing high-speed Kelvin 4-wire measu­rement, the A7 features direct linear drives and a carbon fiber Z-axis for extreme accuracy and speed.
Everett Charles Technologies
www.ectinfo.com