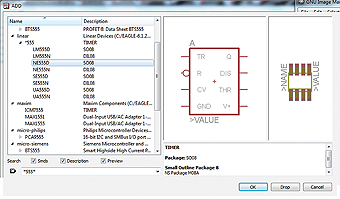 Last time we started with the schematic. The ADD command places components.
At the bottom of the ADD dialog you will find the Search line. There you can enter the name of the part, for example: LM555. If you want to make the search more flexible use placeholders like * and ?. For example: *555*. This gives more results.
I would like to mention two important things you should keep in mind before you start:

1. The default grid setting in schematics is 0.1 inch!
Please keep this setting. All EAGLE sche­matic symbols in all libraries are based on this grid.
Of course, you are allowed to set it to millimetre (2.54mm), but you should not change the grid size.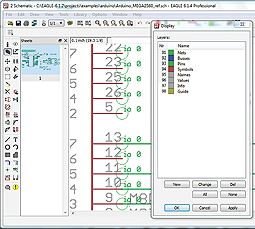 2. Click the DISPLAY icon and switch on layer 93, Pins. So you can see exactly where the pins of a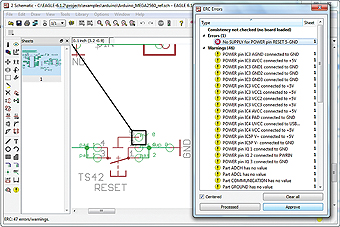 symbol have to be connected with a net.
Located on the left hand side of the schematic editor there is the icon toolbar. Hovering over one of the icons with the mouse shows its name and functionality in the status bar. Simply explore the icons. If you are not sure what you can do with a certain command, look into the help function. Press F1 and there you are.
An interesting command is SMASH. It releases name and value text from the symbol in order to move it or change its layer or size.
By the way: For fine adjusting a text, press the Alt key when you are moving a text. Alt activates the alternative grid that can have any size which is set in the GRID dialog. This can also be used with other commands like LABEL that places the net name or a cross reference.
The final step in creating a schematic should be the Electrical Rule Check. The result of this check is presented in the Errors window.
Click onto the error and warning messages and EAGLE shows you where to look in the drawing.
Please read the messages carefully and decide what to do. In some cases you will recognize that the message is okay for you. So simply Approve it.
Next part will introduce the Design Link interface which offers access to more than 400.000 components.