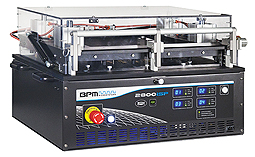 BPM Microsystems demonstrated its new in-system device programming solution at the last SMT Hybrid Packaging Exhibition, May 8 – 10, 2012 at the Exhibition Centre Nuremberg in Germany.
The new 2800ISP Parallel In-System Device Programmer offers the unmatched performance and flexibility of 8th Generation site technology.
With a custom-designed test fixture, operators can easily program flash, microcontrollers and other device technologies on-board after reflow.
The semi-automated design of the 2800ISP uses a pneumatic fixture with built-in safety features to actuate the pressure plate. Once actuated, the circuit board makes contact with high quality pogo pins that are specifically engineered to achieve exceptional signal integrity. Ideal for medium and high-volume production, the 2800ISP is configurable and can program up to 16 devices in parallel.
BPM Microsystems
www.bpmmicro.com