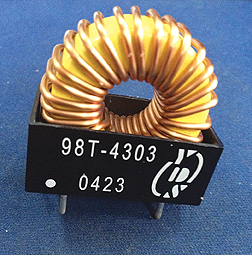 An inductance swing of 2:1 from zero to maximum current and a high volt-seconds-current-product at temperatures up to +130°C characterises of the 98T series high power toroidal inductors from YDS that are available at MSC Vertriebs GmbH.
In addition to standard models with inductance values between 14µH and 335µH customer specific inductors are available. The 98T series inductors are suited for all kinds of switched power circuits, i. e. switching power supplies in all circuit topologies as well as for filter circuits.
The cost effective semi encapsulated design supports space saving vertical mount.
All 98T series models are specified for an operating temperature range up to +130°C. Depending on the model the maximum current ranges from 3.6A to 17A. Depending on the core size the energy storage capability is specified between 700µJ and 6030µJ. The 98T series of high current inductors is recognised by UL1950.
MSC Vertriebs
www.msc-ge.com