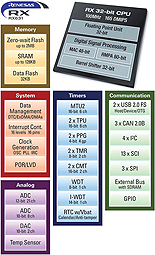 MSC now offers 12 new high-performance RX631 microcontrollers (MCUs) in 64- and 48-pin packages from Renesas Electronics. The new devices are particularly suited for compact and cost-sensitive industrial and consumer applications.
The MCUs are provided with 256KB, 384KB or 512KB flash memory and achieve up to 165 DMIPS processing power at 100MHz operation. At the same time, the new MCUs offer users a wide range of communication, timer and analog peripherals including USB 2.0 full-speed channel (Host, Device and OTG), CAN interface, 12 A/D converter channels, a 10-bit D/A converter and a real-time clock (RTC).
Furthermore, the RX631 derivatives that come in a 64-pin LQFP package, provide a six-channel multi-function timer pulse unit 2 (MTU2) with complementary six-phase PWM, a six-channel timer pulse unit (TPU), a four-channel compare match timer (CMT), a four-channel timer (TMR) and dual watchdog timers. The RX631 derivatives also feature numerous serial data communication channels, six SCI, two SPI, and one I2C. Four channels of DMA and a Data Transfer Controller make it easy to handle transfers with peripherals and ensure efficient use of the CPU.
Msc
www.msc-ge.com