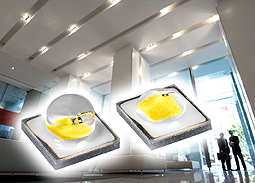 With the new generation of Oslon SSL LEDs from OSRAM Opto Semiconductors Rutronik presents a particularly temperature stable light source.
The LED provides a luminous flux of typically 98lm in warm white (3,000K), with an operating current of 350mA at an application temperature of 85°C in the chip. With its typical luminous efficacy of 96lm/W it is among the most efficient 1 mm²-Chip-LEDs presently to be found on the market.
The combination of higher luminous flux and reduced forward voltage of 3.1V of the new Oslon SSL equals an efficiency increase of approximately 25%, when compared with the previous generation. For manufacturers of lighting solutions, this makes luminaire development much easier: a smaller number of LEDs attains the same luminous flux, as well as the same efficiency as before. The higher temperature stability of its luminous flux, even when operating under "hot" application conditions, significantly simplifies thermal management. The new Osram Oslon SSL LEDs are available in the light color "warm white" (3,000K), suitable for interior lighting (type EC), for instance in downlights, as well as in "cold white" (5,000K), for use in exterior lighting (type PC).
Rutronik
www.rutronik.com