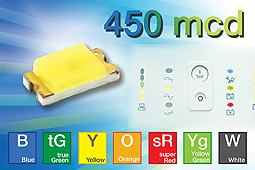 Vishay Intertechnology Inc. announced a series of super-thin, ultra-bright LEDs in the smallest SMD 0603 package. The new VLM×1300 series of LEDs uses an innovative ChipLED technology, paving the way for smaller end products with higher performance, more flexibility in design, and enhanced applications.
The 0603 VLMx1300 LEDs will serve in small-scale, high-brightness products that must work reliably in demanding environments.
All LEDs in the VLMx1300 series are mounted on highly reliable PCBs measuring 1.6 x 0.8 x 0.55mm and have an extremely wide 130° viewing angle. Available colors include super red, soft orange, yellow, yellow green, true green, blue, and white. Using ultra-bright AllnGaP and InGaN technologies (depending on color), the color LEDs have a luminous intensity as high as 450 mcd at a forward current of 20mA and a maximum forward voltage of 3.8V. Blue is available with a protection diode that provides ESD immunity up to 8,000V. The white LED has a maximum luminous intensity of 180mcd at a forward current of 5mA and a maximum forward voltage of 3.15V. The table below lists characteristics by part number.
Vishay Intertechnology
www.vishay.com