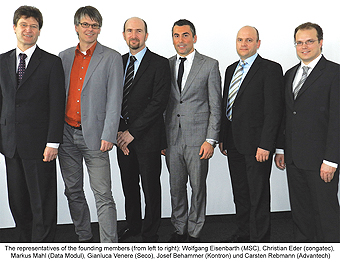 The founding of the Standardization Group for Embedded Technologies ('SGET' for short) has been announced. Leading embedded computer manufacturers, namely Advantech, congatec, Data Modul, Kontron, MSC, SECO, and the publishers WEKA Fachmedien and Vogel Business Media have announced to be among the founding members.
The SGET will hold its inaugural meeting at the beginning of March and will be committed to developing and maintaining worldwide valid embedded computing specifications, in order to propel new embedded technology standardizations meeting the demands of the markets. With the founding of the SGET, a globally-operating, manufacturer-independent consortium has been created, which is in position to react to the accele­rated speed of technological progress and changing market demands fast and flexible. The founding members of the SGET are confident that, worldwide, more than one hundred ventures are going to join the group within a year – underlining the great need for improvements in market orientation and fast specification implementation. Other companies and institutions which work in the area of embedded computing are invited to join the new Standardization Group for Embedded Technologies.
In particular, the SGET welcomes embedded computer manufacturers on board- and system-level, research and educational institutions as well as embedded system integrators, OEM
solution providers and industries' end-users.
Kontron
www.kontron.com