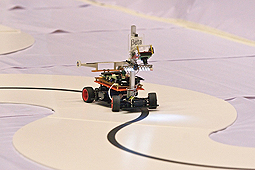 Intelligent car racing competition showcased in live action in foyer between the East Entrance and Hall 4A where the main Freescale booth is located.
The Freescale Cup,
sponsored by Freescale Semiconductor is a global competition where student teams build, program and race an intelligent model car around a track. The fastest car to complete the track without derailing wins the race. 2011 – 2012 is the first season of the Freescale Cup in the EMEA region. More than 200 undergraduate
students from the Czech Republic, France, Germany, Poland, Romania, Russia and Slovakia signed up to participate as teams in the EMEA Freescale Cup. This challenge offers a collaborative, competitive and hands-on way for students to learn about embedded systems engineering and how to apply it in a real-world application.
Anatomy of an Intelligent Car
The creation of this intelligent car requires:
• embedded software programming and basic circuit creation using Freescale parts included in the entry kit
• students to create motor control hardware and software to propel and steer their intelligent car
• students to interface with a camera to navigate the car through the race course by following the guideline
The standard intelligent car components are the model car kit, servo, electric mo­tors, a battery with a charger and a quick start guide. Below is a list of the specific elements by function:
• chassis – 1/18 Scale model
• propulsion – 7.2V DC motors (one for each rear wheel)
• steering – servo motor
• control system – Freescale Qorivva MPC5604B automotive microcontroller
• motor control – Freescale analog board
• an MC33931 H-Bridge
• guidance – CMOS camera
The teams of up to three
students each received their Freescale Cup car kits in October and have been working with their school professors to create the fastest smart car in the EMEA region.

European Final
On April 3-4, 2012, more than 90 students from the 15 enrolled schools will race for the EMEA Freescale Cup title. At the event, which will be hosted by the Czech Technology University, the students will have a chance to demonstrate what they have learned during two qualification rounds where each car has to run its best lap time over two consecutive laps. The 112 sq/m racetrack includes challenging sections with speed bumps, an intersection, a hill, a tunnel and zigzag curves.
Finally, as grand prize, the winning team will be invited to attend the Freescale Technology Forum (FTF) in San Antonio, TX to show their achievement and race their vehicle against finalists from other regions.
Freescale Semiconductor
www.freescale.com