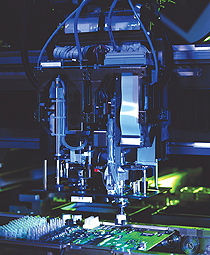 With its new Multi-Gripper Kit, SIPLACE speeds up electronics manufacturers' NPI processes. A single case contains a head connector, pincers, vertical stops and tools with which a user can build a matching gripper for odd shapes in just a few minutes. With the proper software configuration and mounted on the SIPLACE TwinHead, the gripper can then be used to reliably place connectors, switches and other odd-shaped components. Instead of having to wait up to several weeks for a special gripper, the SIPLACE Multi-Gripper Kit enables users to start the placement process right away. Another benefit: Since the special grippers no longer have to be custom-made for a specific product, electronics manufacturers enjoy significant cost savings.
"Flexibility for new product introductions is an important factor for contract manufacturers. The SIPLACE Multi-Gripper Kit includes everything you need to assemble grippers for special components on the spot. You simply select the right pincers from the kit and screw them onto the basic module, which connects to the placement head. Depending on their needs, electronics producers can order additional basic components or highly specific pincer pairs – the case which holds the Multi-Gripper Kit is prepared for such requirements," says Bernhard Fritz, head of product marketing at the SIPLACE team's headquarters in Munich, Germany.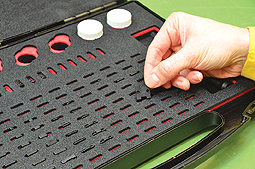 With the SIPLACE Multi-Gripper Kit, electronics manufacturers can prepare their placement solutions and lines for components that are especially difficult to handle. Designing and assembling the gripper and configuring it in the placement software takes only a few minutes. That way, electronics manufacturers can start running products for their customers right away.
Needless to say, the SIPLACE Applications Center in Munich with its proven team of experts will continue to produce special nozzles and grippers for any customer requirements. SIPLACE customers can also put all products ranging from hardware to software through their paces in a realistic production environment at the SIPLACE Applications Center in order to find even faster and more efficient solutions with the help of highly experienced SIPLACE experts.
ASM Assembly Systems
www.siplace.com