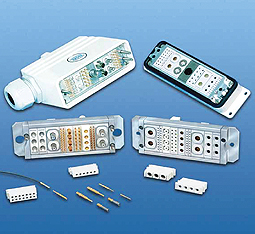 The ODU-MAC modular connector system, manufactured by ODU, is equipped with a range of combination possibilities and with particular modules: customizable frames, plastic insulation bodies and removable crimp contacts for power, signal, coax, air couplings and fiber optic connections. The connectors are equipped with spring wire contacts, which allow up to 100 000 mating cycles. ODU MAC modular connectors are available in aluminum frame or DIN housing.
Main characteristics:
• Extremely high mating cycles ( > 100.000)
• Vibration protection and stability
• Easy operation
• High connector density, low space requirements
• Alu-frame and Din-housing available.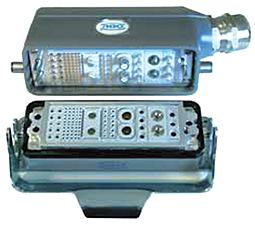 DIN frame
DIN housing is used in heavy use on/off
connections and can be locked with locking latch or locking spindle. Connectors are used specially in medical, testing and many
industrial applications.
• for mounting in a standard aluminium housing (panel mounted base, cable hood, box mounted base)
• 4 frame sizes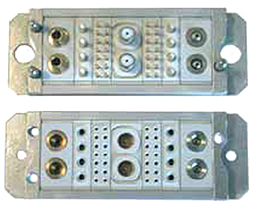 Frame versions
ODU MAC connectors with aluminum frame are specially used in test
automation applications.
• 3 basic version (standard; mini, large)
• from 3 up to 60 units per connector
• with or without unit-numbering
• special for docking applications.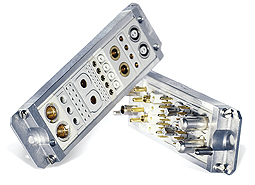 Arguments for ODU-MAC
– High mating cycles
– Outstanding performance under vibration
– High density ® low required space
– Guiding features
– Versatility
– Easy handling (locking spindle)
– Non magnetic contacts
– Modification of catalogue versions possible
Fields of application
What do you need for the configuration of a connector:

• life time (mating cycles)
• number of contacts and type of contacts
• current load of the contacts
• operation environment – environmental temperatures
• operating voltage.
Contact: Eng. Alina Cibu
E-mail: alina.cibu@odu-rom.ro
www.odu-rom.ro
ODU ROM Manufacturing – Str. Fundătura Lânii nr. 22, 550019 Sibiu, Romania
Tel: +40 (0) 269 206345; Fax: +40 (0) 269 221006
For general information visit: www.odu.de