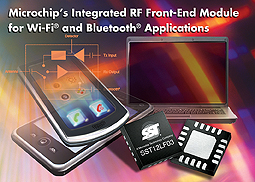 Microchip announces its complete, integrated RF front-end module for WLAN IEEE 802.11b/g/n and Bluetooth® systems – the SST12LF03. This device features a transmitter power amplifier, a receiver
low-noise amplifier (LNA) and a low-loss antenna switch—in one integrated, compact package. It is Microchip's smallest 802.11b/g/n-compliant front-end module. The device's RF ports are impedance-matched to 50 Ohms, and the module requires only two external components to achieve optimum performance. It offers a high linear-transmission power of 19 dBm at 3 percent EVM, using 802.11g OFDM at 54 Mbps, and 22 dBm for IEEE 802.11b operation. The device supports Wi-Fi® and Bluetooth Tx/Rx, and enables simultaneous Wi-Fi and Bluetooth operation. The SST12LF03 is ideal for embedded applications in which small size and high performance are required, such as notebooks or other portable-electronic devices.
Many battery-powered, handheld designs require small size and high performance, and the SST12LF03 meets those needs. By integrating three RF functions into one compact, simple-to-use package, this front-end module makes designing easier and reduces board size.
The SST12LF03 is available in a 20-pin, 3mm × 3mm UQFN package.
Microchip Technology
www.microchip.com/get/E2PB