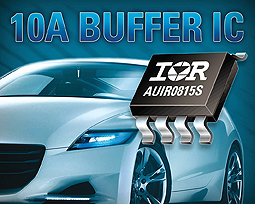 International Rectifier has launched the AUIR0815S automotive-qualified IC featuring very high output current in excess of 10 A to drive large IGBTs or MOSFETs in inverter stages for the power train of hybrid and electrical vehicles.
The AUIR0815S' very low output impedance and power losses allow operation in harsh and high temperature environments. Typical output resistance is 90 mOhm sink and 180 mOhm source. The device also features negative Vgs driving and continuous on-state capability as a result of an integrated PMOS output in parallel to the high-side pull-up NMOS. The OUTH and OUTL separated outputs allow selection of two different external resistors for charging and discharging the gate essential for controlling EMI and CdV/dT effect in high power motor driver and SMPS applications.
The AUIR0815 simplifies the design of inverter systems by offering high current drive capability with all of the necessary protection features and qualification requirements for the harsh automotive drive train environment.
International Rectifier
www.irf.com