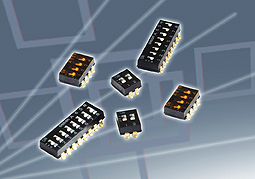 Omron Electronic Components B.V. newly released slide DIP switch uses innovative mechanical design to give more reliable switch operation.
The new Omron A6SN features high pressure, knife-edge internal mechanics, ensuring more reliable and consistent contact operation. This design enables any solder flux residues to be broken during the operation of the switch actuator. The switch also uses a temperature resistant resin that enables reflow soldering at peak temperatures of up to 260°C, which is higher than most comparable alternatives.
The Omron A6SN is rated at 24V DC at 25mA, available with 1 to 10 poles and a flat or raised actuator. Insulation resistance is 100MΩ at 100V DC. The A6SN supports an ambient operating temperature range of -30°C to +85°C. Omron's DIP switch range meets the requirements of many electronic markets including security, vending, industrial, process control and embedded applications. The product line-up includes industry standard types, low torque sealed switches and a number of industry specific models.
Omron Electronic Components Business – Europe
http://components.omron.eu