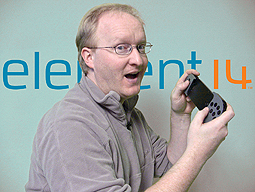 element14, the first collaborative community and electronics store for design engineers and electronics enthusiasts, and modding guru Ben Heck pay homage to the 2012 CES International tradeshow in the latest episode of the "The Ben Heck Show."
This week's modding project features an Apple iPhone® that Ben morphs into an enhanced hand-held gaming tool – sure to impress even Android fans.
To successfully implement video gaming capabilities onto the smaller-footed iPhone, Ben first deconstructs an iCade®system that enables gaming on an Apple iPad® to integrate a scaled-down version of the circuitry. Then, by connecting a PodBreakout board to a simulated battery, Ben borrows voltage from the iPad to enable the Bluetooth required to power the iPhone for mobile gaming purposes.
Ben wraps up the episode by showing viewers how to build the case and required controller components – from designing and routing the shell and laser button pads using an Epilog Laser Engraver to creating and printing buttons. The final result is a tricked-out innovative hand-held Apple iPhone gaming device. Show fans are invited to join the element14 community to send Ben a challenge for a future build, engage with community members, and enter for a chance to win the build from this episode.
element14
www.element14.com