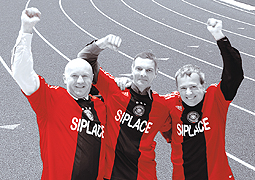 At this year's APEX trade show in the San Diego Convention Center (Feb. 28 – March 1, Booth 1111), the SIPLACE team will present many innovations for its award-winning SIPLACE SX placement platform. The innovations range from new setup concepts to efficiency-enhancing machine options like the SIPLACE Smart Pin Support and the revolutionary SIPLACE Glue Feeder. The technology leader in SMT placement will not just make promises, but will take on challenges from electronics manufacturers "live" as part of the SIPLACE Challenge Cup. Visitors to the show will be able to see the SIPLACE team solve customer challenges in a series of live demonstrations on the booth. SIPLACE's new software solutions and placement equipment hardware are designed to make the production processes easier and more efficient.
Flexible gantries and one placement head for all standard devices
As proof, the SIPLACE SX features flexible gantries that can be installed or uninstalled in only a few minutes. That way, users are able to shift placement capacity between machines and lines without having to perform expensive and time-consuming reconfigurations. And since SIPLACE rents these gantries at short notice and at reasonable rates, electronics producers can even adapt their placement capacities to seasonal or economic fluctuations. Scaling the performance of a line in accordance with demand is now easier than ever before.
The SIPLACE MultiStar CPP head delivers more simplicity as well, because it can switch between Collect & Place, Pick & Place and a special Mixed mode for each placement process. As a result, all common components can now be placed by a single head. For example, the SIPLACE MultiStar can operate as a fast Collect & Place head placing standard components for one product and as a flexible end-of-line head with Pick & Place capabilities for the next product. To handle the same spectrum, other equipment makers require a whole portfolio of specialty heads with the corresponding investment, reconfiguration and maintenance costs and requirements. The SIPLACE SX with its SIPLACE MultiStar placement head offers huge gains in flexibility and efficiency for both high mix and high volume operations.
Software and setup concepts improve efficiency
Efficiency improvements in the production run phase will be another major feature at the SIPLACE booth. With the SIPLACE Alternative Components software function, users can now specify second-source components for all placement positions in addition to the primary ones. When an alternative component is set up, SIPLACE placement solutions adapt automatically, thus eliminating the need to download a separate version of the placement program.
True "feeder anywhere" with SIPLACE software and Multistar Head
As far as setup strategies are concerned, the SIPLACE team will show new options such as Random Setup, Constant or Split Tables as well as functions like Stationwise Download. Combining these concepts with the component range of the Multistar head gives SIPLACE the only true "feeder anywhere" capability in the industry.
Smart Pin Support, Glue Feeder and LED Pairing
With SIPLACE Smart Pin Support, users will be able to define special support pins in a 3D view of the placement program for heavy or very sensitive boards. The 3D view allows the user to position pins near topside components that require support, like high force connectors, while avoiding contact with bottom side parts. Support pins are placed automatically under the PCB in the machine.
The SIPLACE Glue Feeder is an attractive solution for gluing heavy components in two-sided placement processes. The SIPLACE engineers managed to develop a complete high-precision gluing unit in the shape of a feeder. Instead of being able to run such special processes only on selected lines with integrated glue stations, the SIPLACE Glue Feeder can be installed on any machine or line. This makes this SIPLACE innovation a highly flexible and extremely cost-effective alternative to traditional glue stations.
SIPLACE LED Pairing with its automated brightness class management makes LED placements a lot easier than before. If the placement machine recognizes that LEDs of a different brightness class are being fed into the machine, the software automatically switches to the appropriate series resistor.
ASM Assembly Systems
www.siplace.com